These BBQ lentils couldn't be easier or quicker to make. I prepare them with my naturally sweetened, date BBQ sauce, and I use them as a staple in my vegan meal prep. They're a super versatile plant protein!
Do these BBQ lentils really require a blog post of their own?
Maybe not. Maybe a recipe with two ingredients—lentils and BBQ sauce—is self-explanatory. But honestly, I've made these lentils at least three times in the mere three weeks since I made homemade date BBQ sauce. And I've found them to be so versatile and handy to have in the fridge that it feels wrong not to share.
There are probably a lot of ways to make BBQ lentils. One might be to sauté them with onion and garlic before adding sauce ingredients. That's how I prepare them in these lentil Sloppy Joes, which is an old, favorite recipe.
However, there are times when a person doesn't want to chop up garlic or onion. There are times when sautéing anything sounds like a pain. I am smack dab in the middle of such a time period. Right now, I want everything to be as easy as humanly possible.
That's basically how the BBQ lentils came to be. I had cooked lentils in my fridge—they're a meal prep staple for me and a starring ingredient in my diet—and I wanted to give them some good seasoning. But I didn't really want to do any cooking.
Fortunately, I had a jar of my date BBQ sauce in the fridge along with the lentils. I wondered how it would be to simply simmer the lentils with the sauce, rather than going to any other lengths for flavor.
As it turns out, lentils + BBQ sauce are a pretty great, versatile, unfussy plant protein. Would it be possible to dress them up, adding vegetables or alliums for more depth of flavor? Yes. 100% yes. But there are times when minimal effort in exchange for good flavor is good enough.
This recipe is suited for those times.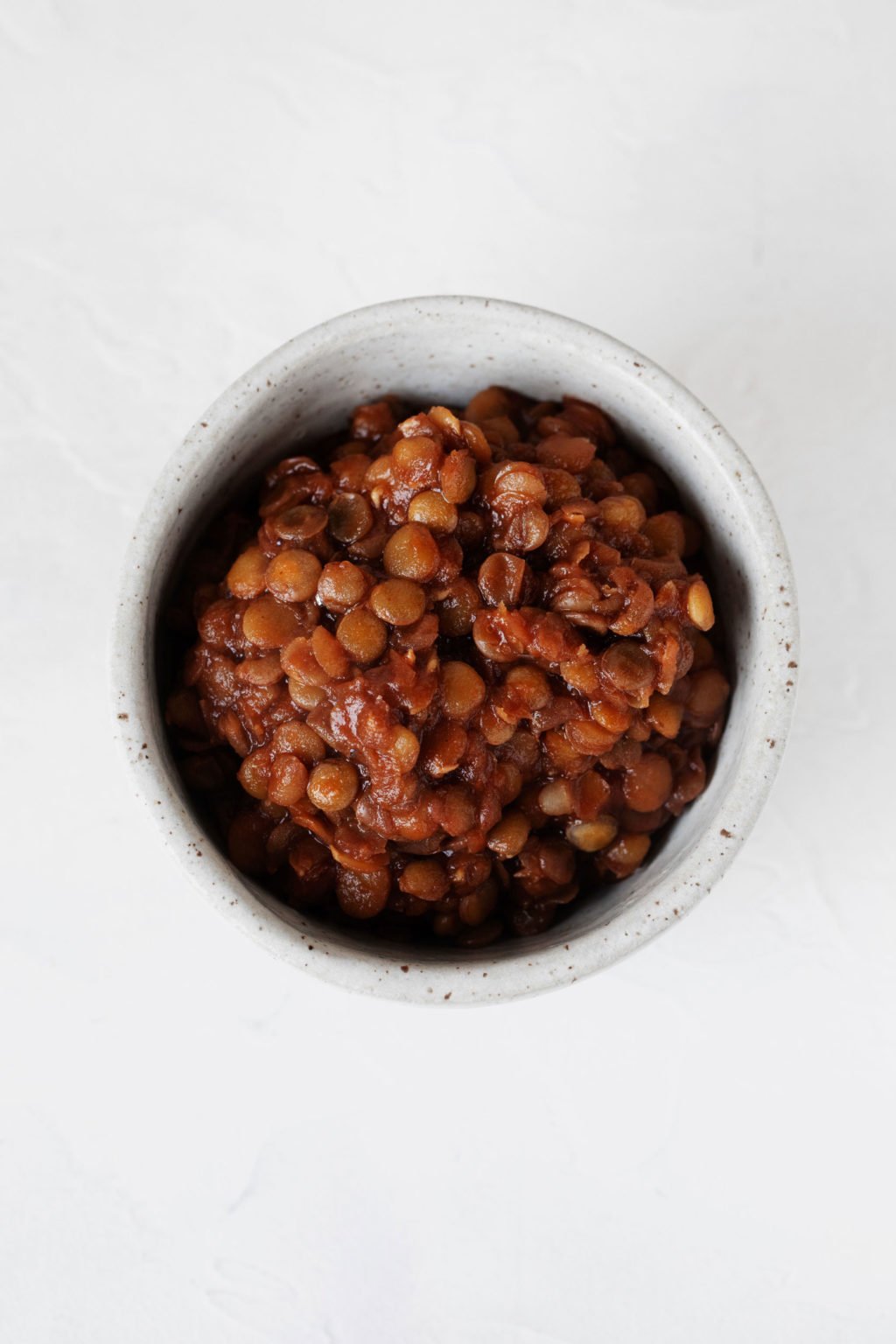 How to make BBQ lentils
In the case of this particular recipe, it's about as simple as combining lentils and BBQ sauce.
There are a few other details—namely, you'll need to cook your lentils and make the BBQ sauce. Even these steps can be shortened, though. If you don't want to cook lentils from scratch, canned lentils are always an option.
And if you don't want to make homemade BBQ sauce—either my date BBQ sauce or another version, you can use a store-bought, vegan BBQ sauce that you know and love.
I bring the lentils to a gentle simmer in a sauce pot with the BBQ sauce, and then I allow them to simmer, uncovered, for five minutes. This reduces the sauce a bit and warms the ingredients through. Taste the lentils once they're cooked, and add any of the following, if you like:
At this point, your BBQ lentils are ready to be used however you like. More on that below!
How I cook lentils
Most traditional lentil cooking instructions say to use a certain ratio of dry lentils to water, bring the mixture to a boil, and cook until the water has been absorbed.
I've made lentils this way may times, and it works fine. Sometimes I need to add a little extra water, sometimes I need to drain excess water at the end of cooking.
My favorite lentil cooking method to date is to add dry lentils to a pot of boiling water and let them boil for about 20-30 minutes. Taste a few lentils to check for doneness. Drain them well, and then serve or store them.
This is the same method that I use to cook brown rice. I first read about it here, and while I was skeptical, the "boil like pasta" method has been a game changer. Now I cook barley and farro the same way, and I'll never go back.
I wasn't sure that this type of boiling would work for lentils, but sure enough, it does. And it helps to prevent lentils that are either undercooked or mushy. So long as you don't mind tasting a few lentils as they cook (I have a small strainer, which I use to grab a few), you'll be able to pull the lentils from heat when they're just the right texture.
My favorite date BBQ sauce
There are some staples that I'm terrible about consistently making from scratch. Bread is one of them: I'm either on or off, baking bread all the time or going months without bothering. I almost never make my own nut butter, I'm inconsistent about hummus, and while I think it's fun to make almond milk, I purchase non-dairy milk more often than not.
The one area where I excel at DIY-ing is with dressings and sauces. (Cashew cheese, too, though the explosion of spreadable vegan cheeses in stores is making lapse a bit.) I think homemade dressings taste so much better than store-bought, even the good store-bought ones.
As for sauces, I tend to buy enchilada sauce and marinara. But there are so many other creamy sauces that I rely on in my cooking, and I genuinely enjoy making them. This includes yum sauce, cashew cilantro sauce, cashew queso, and sunflower romesco.
It includes sweet sauces, too. And my base for those is usually medjool dates, because I love them so. Dates are a wonderful natural sweetener, and they offer up some nutrients (magnesium, potassium, fiber) along with the flavor of caramel.
I use them in my homemade, salted caramel sauce. And they're the base of my date BBQ sauce, of course.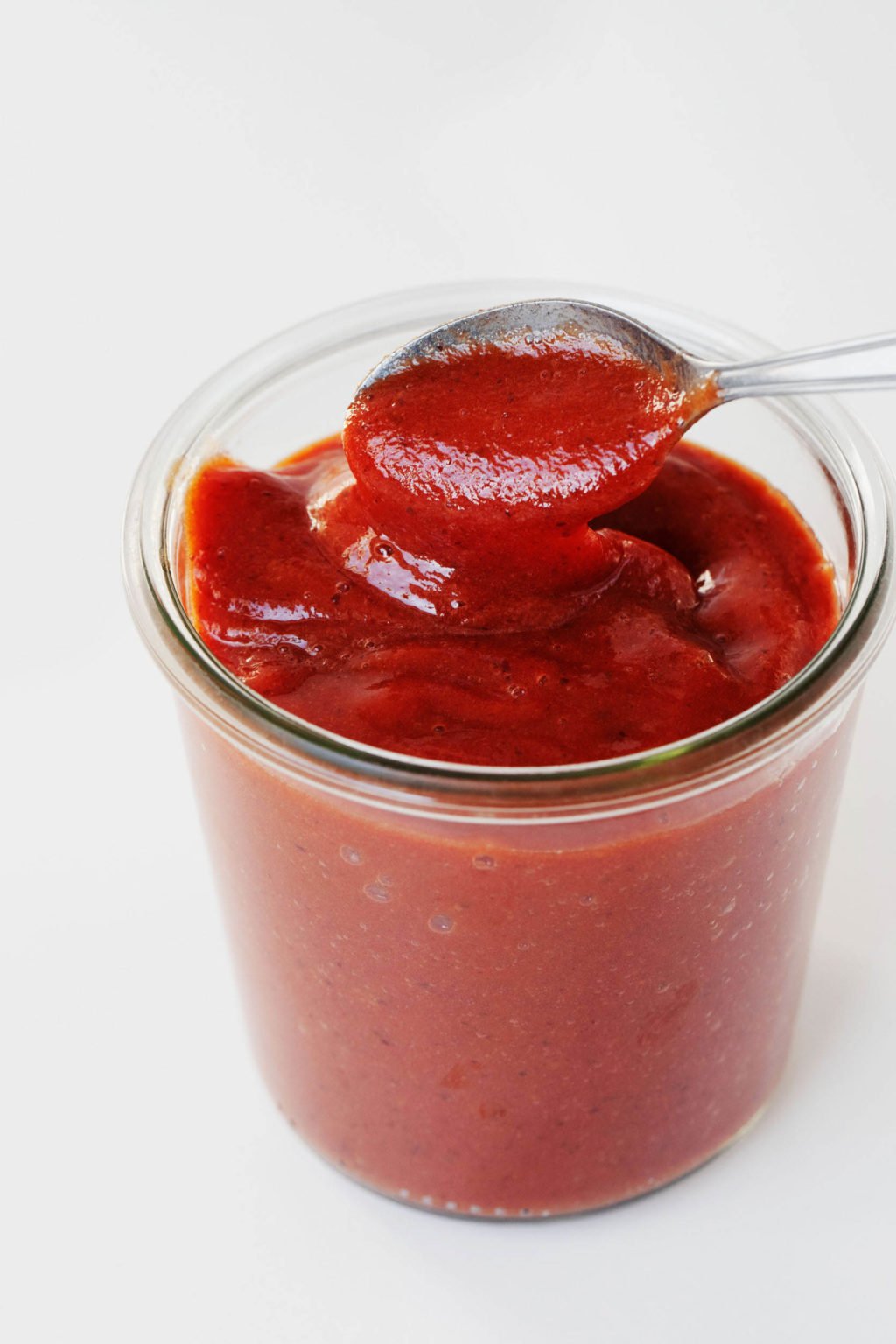 This isn't an ultra-traditional BBQ sauce. It's less tangy than some batches, less spicy than others. It has a richness from the puréed dates that I think is kind of special. But in spite of being a little unusual, it's very wholesome.
Best of all, the date BBQ sauce is really easy to make. I use powdered alliums, so again, there's no need to sauté anything. Making the sauce is as easy as using a blender.
If you don't wish to use the date BBQ sauce for the BBQ lentils, you can absolutely substitute your favorite, store-bought vegan BBQ sauce. There are many to choose from; I like this one a lot.
Meal prep & storage
One made, the BBQ lentils will keep nicely in the fridge for up to four or five days. They're a great candidate for weekly meal prep or batch cooking.
You can also freeze any leftovers lentils you have for up to six weeks.
BBQ lentils, three ways
There are so many ways to serve the BBQ lentils, but three preparations have been on repeat in my apartment.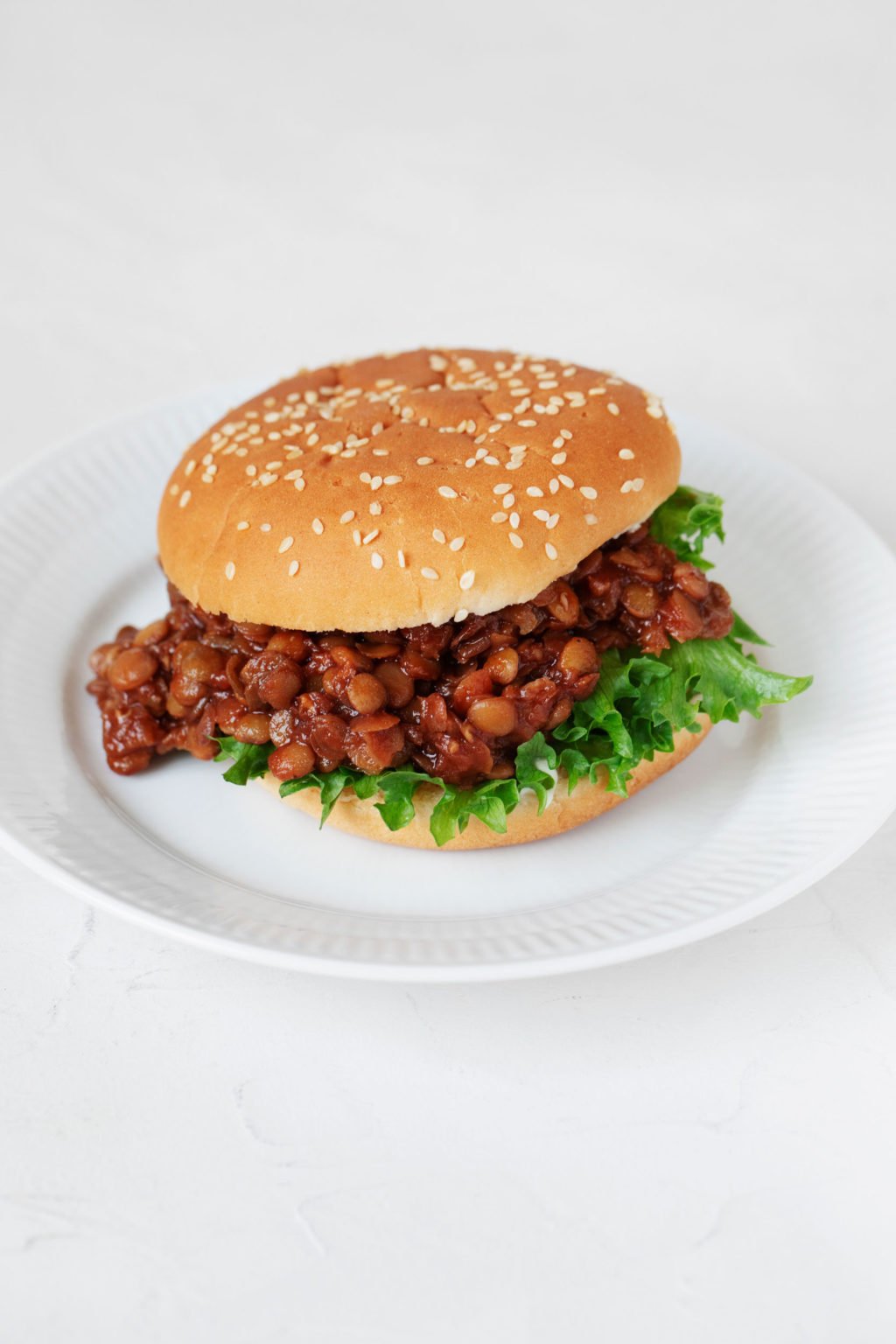 On a burger bun
This is the Sloppy Joe idea, of course. Just made ultra-simple. Add tomato slices, lettuce, onion, or whatever fixings you like.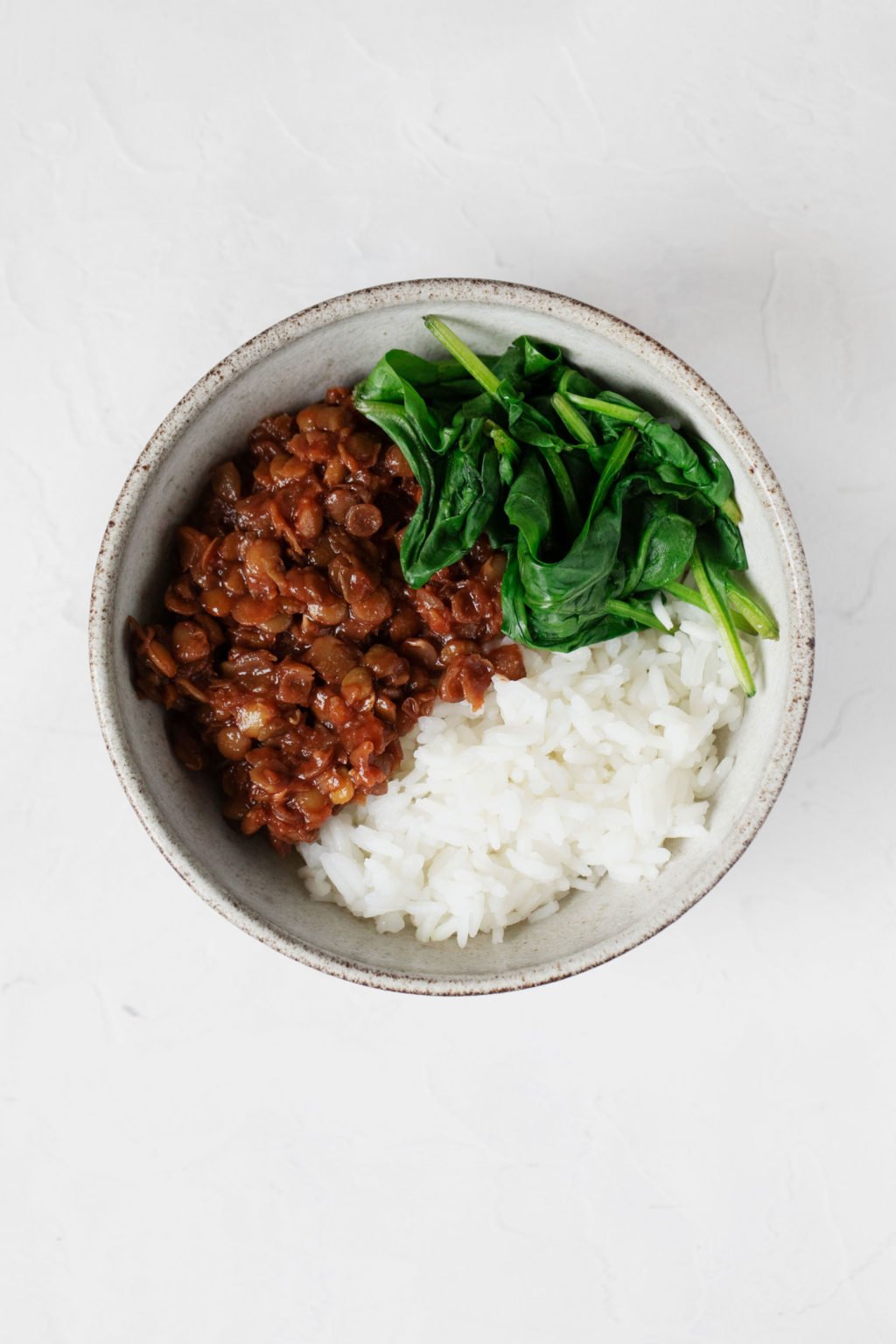 In a bowl
I love bowl meals generally, and these days, I've been playing around with a lot of simple varieties. Chickpea burrito bowls have been a recent favorite. The BBQ lentils, served with cooked rice and some sautéed or steamed greens, are now another favorite.
You can get creative with your BBQ lentil bowls, adding a sauce, something crunchy, vegan bacon bits, or anything else that suits you. The greens could be heavily seasoned, and they could also be another vegetable entirely.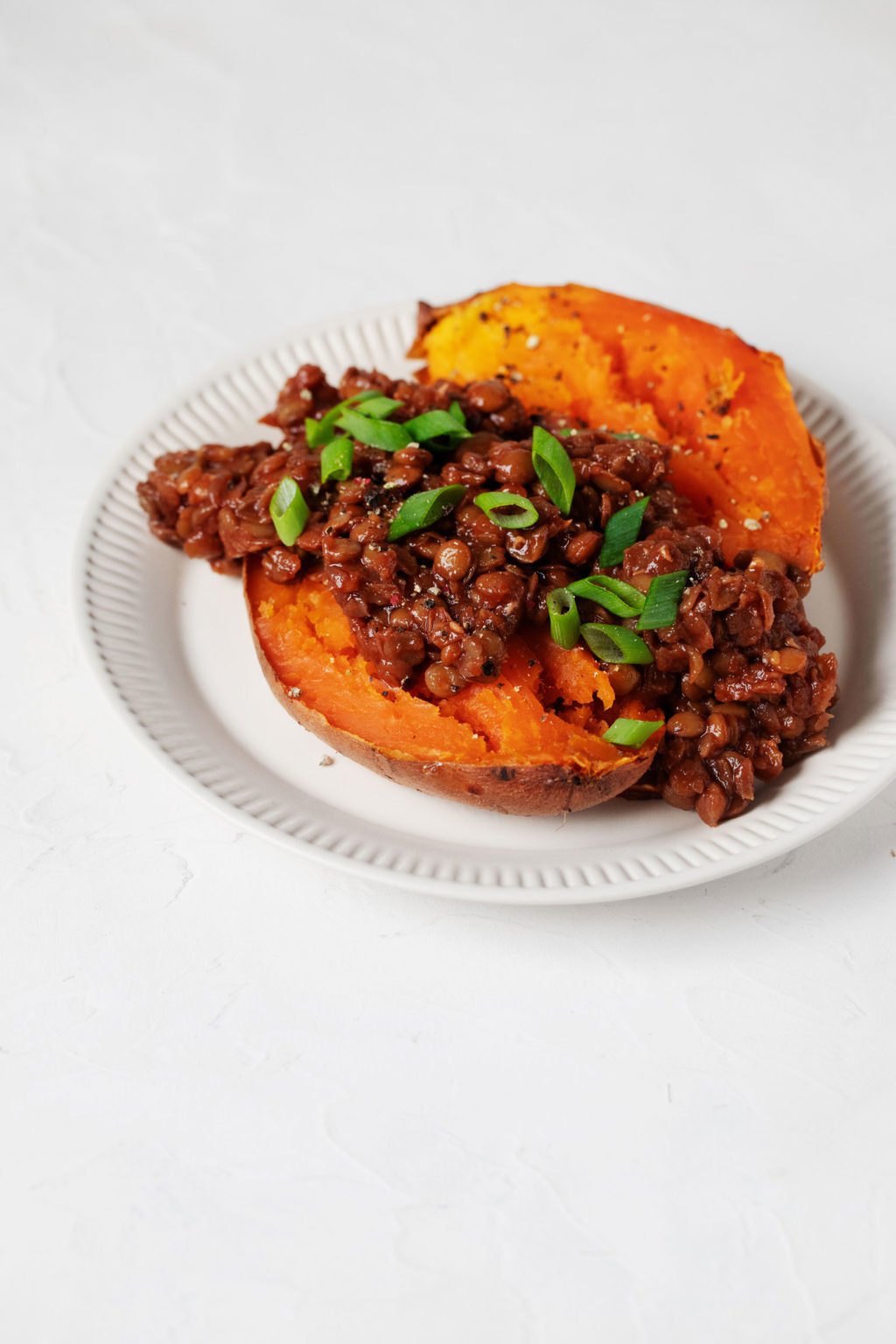 On a baked sweet potato
I'll put just about anything on or over a sweet potato. I especially love stuffing and topping sweet potatoes with greens and legumes—these Moroccan-inspired sweet potatoes and these quinoa kale stuffed sweet potatoes are two of my favorite examples.
The BBQ lentils work beautifully on a sweet potato, too. I like to top them with chopped green onion tops, cashew cream, or a mix of both. This combo can be a super quick, very basic, but very satisfying and nourishing vegan lunch.
More serving ideas
If none of those ideas are calling to you, here are a few more ways that you could serve the BBQ lentils:
Over polenta (soft, baked or grilled)
On some of your favorite toast (I'd love to try them with maple oatmeal bread)
Mixed with sautéed or braised greens
With macaroni or mini shells
Over or with cauliflower rice
Scooped over a plate of air fried potato wedges
In soft or hard tacos
…and I'm sure there are a lot more ideas that I'm not thinking of now.
No matter how you plan to serve the BBQ lentils, here's how to make them.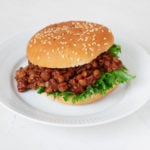 1

cup

dry, brown or green lentils

(200 g)

1

cup

date BBQ sauce

(or a store-bought or homemade sauce of choice; keep some extra sauce handy in case you need it)
Bring a medium pot of water to a rolling boil. Add the lentils. Boil the lentils (like pasta!) for 20-25 minutes, or until they're tender but not mushy. Drain the lentils well, through a sieve. Return them to the pot. 

Add the BBQ sauce to the pot. Bring the lentils and sauce to a simmer, then reduce the heat to low. Simmer the lentils for 5 minutes. Taste the lentils and add extra sauce or a little tamari or Bragg's Liquid Aminos for added seasoning, if desired. Store or serve.
A lot of what I'm sharing lately is on the very simple side, which is just indicative of where I am and how much I have the energy to cook.
I tend to apologize unnecessarily for this, to myself and to you, when in fact there are a lot of upsides of ultra-simple cooking.
It may be an odd connection, but the other day, as I was thinking about this, I remembered the very early days of the coronavirus pandemic and quarantine.
At that moment, my usual daily routine was suddenly pared down to practically no activity. As a result, I started to appreciate really small stuff all the more. Every day activities like short walks or making coffee had new meaning. Since that was what I could do, I found new fulfillment and appreciation within it.
I'm feeling similarly about my simple food lately. For as long as it's what I have the energy for, I'm learning appreciating it wholeheartedly. I'm finding enjoyment in my every day staples and low-key meals.
BBQ lentils are a nice example, and I've enjoyed them a lot. I hope they'll come to your rescue when you need something easy, too.
xo