A roundup of 25 delicious vegan recipes that show how to make vegetables taste good! Featuring salads, soups, stir-fries, burgers and so much more. Plenty of gluten-free and oil-free options.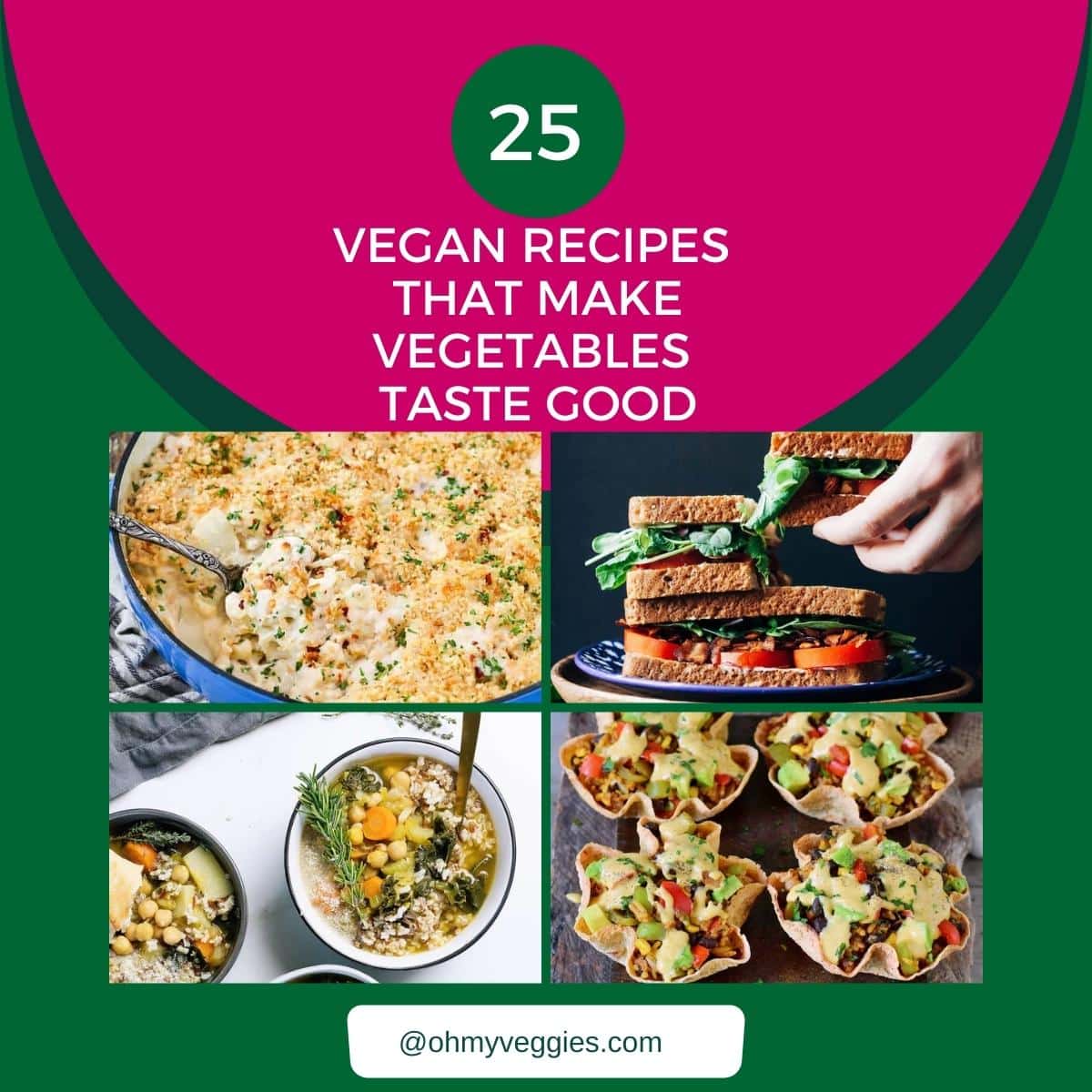 I have to admit that I have never been someone that dislikes vegetables. I grew up eating them, and have only fallen in love more and more over the years.
However, that doesn't mean I spend all my time munching on raw vegetables without any preparation. In fact, I enjoy discovering new ways of preparing them and most importantly, making them taste good – to anyone, even people that think they don't like carrots, cucumber, zucchini, etc.
A lot of people seem to have that problem, which really is problematic given the health benefits of adding more colour to our diets. However, it's very much possible to make vegetables taste good. It all comes down to preparation. Just like plain tofu, bland carrots and zucchini may not be everyone's cup of tea. But there are countless other ways to add veggies to your meals. In fact, you can even make them undetectable, or not taste like the uncooked version at all.
So, I've compiled a roundup of 25 recipes that make vegetables taste good, featuring ideas from myself and other bloggers. This includes options such as:
Delicious salads
Soups
Curries
Brownies
Stir-fries
Sandwiches and burgers
Veggie chips
Fritters
… and much more!
All of these are vegan, with many gluten-free and oil-free options too. And they're all guaranteed to make you fall in love with vegetables, or make you fall in love even more if you're a fan like myself!
Be sure to Pin this for later in case you ever need inspiration for a lunch, dinner or dessert that's delicious and nutritious at the same time.
25 Ways To Make Vegetables Taste Good
All of these are vegan, with many gluten-free and oil-free options too. And they're all guaranteed to make you fall in love with vegetables!
Fritters are really easy to make and are a great way to use up any leftover vegetables. These ones are made with zucchini, red lentils and sweetcorn, and are delicious to eat by themselves with a dip or in salads.
This is a flavourful and cosy dinner idea that's packed full of vegetables: zucchini, celery and Bok Choi to be specific. There's also plenty of texture thanks to the mushrooms and crispy chickpeas.
It's easy to make vegetables taste good when they're in burger form, and this amazing creation by Rebecca from Strength And Sunshine shows exactly how to do just that! This is definitely one to save for a healthy and delicious lunch or dinner.
Cauliflower doesn't have the best reputation, but this cheesy casserole by Melissa from Vegan Huggs shows that you can turn this vegetable into something beyond delicious. This dish is completely dairy-free, easy to make and will certainly impress non-vegan friends and family!
Matt and Steph from Pasta-based created this incredible chickpea soup that's full of nourishing vegetables and is super comforting. This would make an incredible dinner to enjoy with some bread on a cold evening!
Colourful bowls with lots of vegetables are always a great meal idea. These roasted veggie bowls by Shannon from Yup, It's Vegan! look super nourishing and feature a whole range of delicious ingredients, from butternut squash to beets and kale.
How incredible is this ratatouille by Sarah from My Darling Vegan?! This colourful and healthy dish is a wonderful addition to the dinner table either as a main course or a side dish.
Veggie chips are one of my favourite snacks, and homemade ones always taste better! These ones are perfect for eating on the go, or serving at a movie night with a dip of your choice.
Super comforting and easy to prepare, this 'dump and bake' casserole by Caitlin from From My Bowl is a dinner that the whole family will love. It's made with just 8 simple and healthy ingredients!
A great way make vegetables taste good is by adding them to your dips as well as your main meals! This spinach artichoke dip by Eva from the curious chickpea certainly looks beyond delicious – perfect for nachos, veggie sticks, or just eating it by itself with a spoon.
This amazing chickpea coconut curry by Amy from Veggies Save The Day is ready in just 30 minutes, making it perfect for an easy weeknight dinner that's full of healthy ingredients!
Not sure how to add more veggies to your diet? Put them in a sandwich! This vegan BLT by Sarah from Well And Full is a perfect option for a make-ahead lunch to bring to work or school.
Salads certainly don't have to be boring! This raw veggie salad by Jenn from Veggie Inspired is oil-free and perfect for bringing along to parties and gatherings.
The flavours of curry and sweet potato work incredibly well together. This soup by Gwen from Delightful Adventures is a perfect comforting meal to enjoy on a cold evening.
This sweet almond tofu rice stir-fry is a brilliant healthy weeknight dinner that you can make in 30 minutes. It's incredibly colourful and the almond butter sauce adds plenty of flavour.
One of the best ways to eat vegetables? Putting them into desserts! These sweet potato brownies by Rhian from Rhian's Recipes look perfectly fudgy and would be brilliant for an afternoon snack.
These crispy chickpea fritters, served with avocado and pan-fried tomatoes, taste incredible in a sandwich. I love serving this with a side salad or some homemade fries.
This salad by Aimee From Wallflower Kitchen looks like it's full of flavour! The tahini dressing really makes this a next level healthy lunch or dinner.
An abundance of vegetables makes this creamy vegan tomato pasta even more delicious. It's super easy to make with simple ingredients, and the tofu brings in some plantbased protein too.
This is one of my favourite soup recipes! The flavours of the veggies work really well together, and the black beans add a lot of texture. All you need is one pot for a delicious and comforting meal.
Sweet and savoury can work really well in many dishes! This salad by Heidi from The Simple Green is absolutely beautiful, with the almond parmesan adding a creative finishing touch.
Amanda from Recipes Worth Repeating created these incredible chickpea wraps that would make a wonderful light lunch, snack or appetizer. The pesto sauce sounds absolutely incredible!
Baba Ganoush is a fail-proof dip that I love adding to salads or spreading on toast. This one by Diana and Natalia from Little Sunny Kitchen is bursting with colour and looks absolutely incredible.
I love this pumpkin stir-fry because it's super easy to make and delicious with any side of your choice: noodles, rice, potatoes, etc. It's certainly not missing any flavour!
Don't you just wish you could grab one of these tortilla bowls through the screen?! This amazing creation by Ela from Ela Vegan would be wonderful served as an appetizer or snack to show others that it's easy to make vegetables taste good.
Let me know in the comments – what's your favourite way to make vegetables taste good? Be sure to share this post on Facebook to inspire any friends and family who may be looking for inspiration too!