Our 35+ recipes for summer desserts offer refreshing ideas for ice cream, sorbets and popsicles, creamy and luscious pies, fruity cakes and cookies and so much more.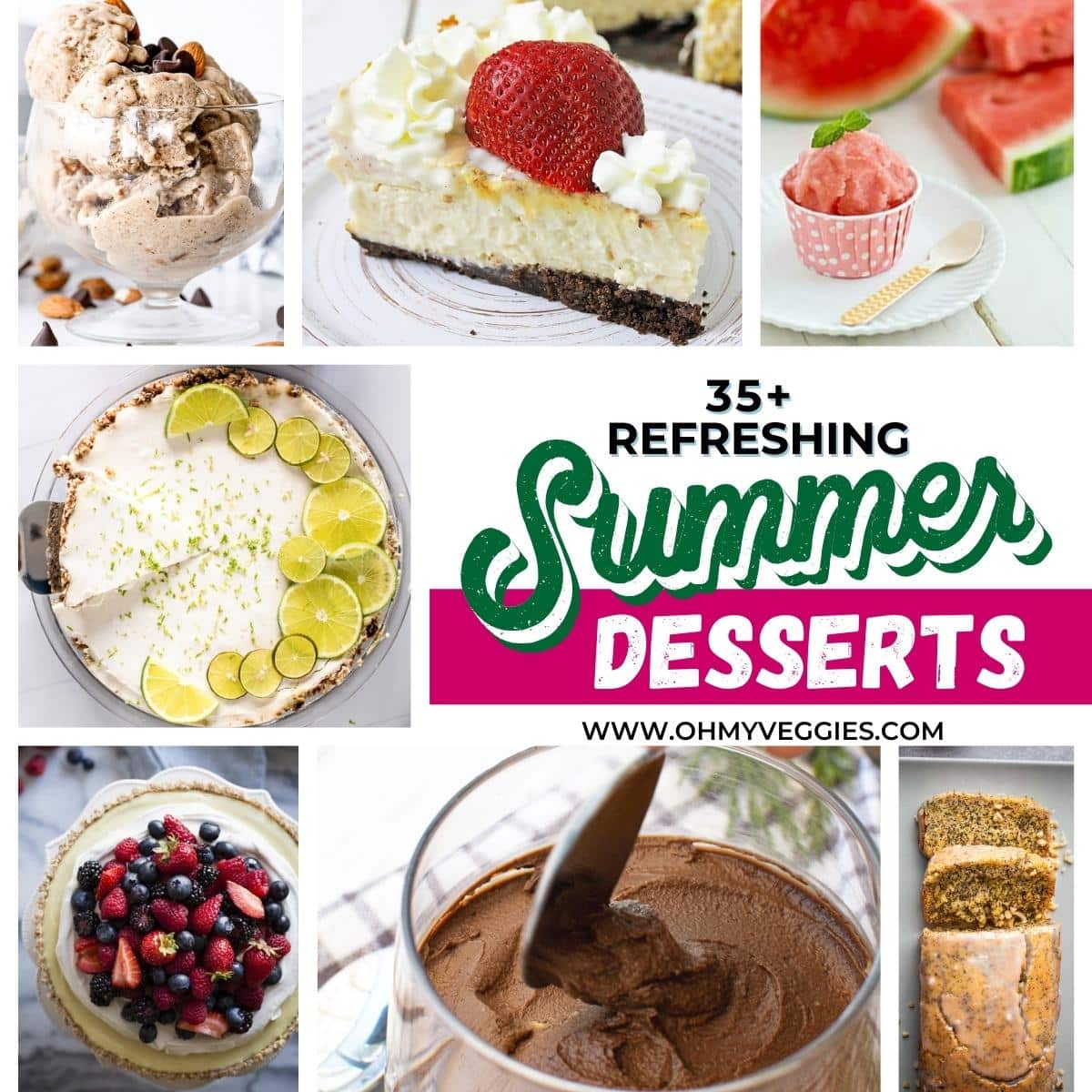 35+ Refreshing Summer Desserts
Our vegan strawberry crumble is packed with sweet, fresh strawberries. It has a fantastic filling of strawberries and a hint of vanilla. The topping is a satisfying crunchy crumble and to make it even better – add a dollop of whipped coconut cream on top. This summer dessert is light, sweet and has a great texture.
Make these strawberry mojito popsicles for your next summer barbecue and we bet they'll be a hit! They have a dash of rum, making them a tasty adult treat, and are simple to make. Strawberry mojito popsicles are low calorie and an icy-cool summer dessert that you'll be making all season long.
Our 5 minute peach nice cream tastes like peach sorbet. It's easy to make and requires only 3 ingredients and five minutes. Peaches, almond milk and agave syrup combine to make this perfectly textured nice cream.
This vegan key lime pie is a simple, no-bake summer dessert. It has a creamy, zesty, flavorsome filling and is egg, dairy and gluten free. This vegan key lime pie has a soft hint of coconut to the taste, giving it a unique and satisfying essence.
There is something so nostalgic and comforting about banana bread. It's a cozy smell that travels through the entire house, inviting everyone to the kitchen. Our easy vegan banana bread isn't any different. In fact, we'd argue it's even better. It's made with six simple ingredients and has a perfect crunchy outer crust combined with a soft, fluffy inside. Our easy vegan banana bread tastes great with jam, but butter, or really anything. It's that good!
Easy banana nice cream is, as the title suggests, easy to make. It's a healthy way to indulge in sweet frozen treats and it's very versatile. You can add in a variety of flavors to give this nice cream a full flavor.
Ginger watermelon Italian ice is a refreshing treat for summer. The recipe is versatile and can be switched up easily to try different tastes. It's easy to make and very tasty.
Vegan Blueberry muffins are a simple muffin recipe. It's beginner-friendly and requires pantry-staple ingredients. These muffins are light, fluffy, sweet and freezer-friendly. They are packed with nutrients thanks to the juicy blueberries and make a wonderful breakfast, snack, or anything really. Muffins are perfect for any time of day.
Vegan rice krispie treats are easy to make and perfect for all occasions. Whether you need something for your child's classroom or your Saturday backyard barbecue, our vegan rice krispie treats are delightful.
These healthy popsicles are fudgey, creamy, rich and delightful. They're quick to prepare and are packed with healthy vitamins. These popsicles make a nutritious snack that has a kid-approved stamp on it!
Vegan lemon cake is a lovely summer dessert. It has a slightly crunchy texture with a soft, fluffy center. The flavor is a balanced blend of tangy lemon and sweetness thanks to the maple syrup. It has a perfect texture and tastes delicious.
Summer is a great time to enjoy fruity desserts but it can be tricky because who wants to turn their oven on when it's hot outside? That's why our raw strawberry chocolate dessert pizza is a sure win. It's a no-bake summer dessert that tastes great and looks beautiful.
If you need a simple, sweet, tasty summer dessert then grilled peaches and vegan peaches and cream popsicles are for you. It's a delightful dessert and it's simple to make. It requires only a handful of ingredients.
Our vegan sugar cookie recipe makes a delightful cookie that is soft, chewy and sweet. They're made with simple ingredients and are egg-less. These vegan sugar cookies are going to be your new staple cookie recipe.
These ginger peach popsicles are the perfect summer treat. They're easy to make and require only a few ingredients.
Our vegan lemon tart is deliciousness wrapped in a crumbly homemade pie crust. It is bursting with citrus-tangy flavor and is 100% vegan, though you wouldn't know by tasting it! This vegan lemon tart is sweet, smooth and has a satisfying texture.
This sweet summer dessert is easy to make. It requires only two ingredients and some time, and before you know it you'll have a fantastic snack. Strawberries and banana fuse to make a healthy, delicious summer dessert.
Our homemade churros have a satisfying texture. They're perfectly crispy, fluffy and dippable. They taste amazing on their own, but if you're feeling extra-adventurous, melt up some dark chocolate or sticky caramel for a heavenly dip. Homemade churros are always a hit!
Chewy chocolate candy cane cookies are sweet and tasty. They're easy to make and are a sure-favorite. Chewy chocolate candy cane cookies take just a few minutes to put together and less than 15 to bake.
One-bowl banana oatmeal cookies are a great cookie. They're soft and sweet with a satisfying texture. These banana oatmeal cookies need just one bowl, hello easy clean-up! They also take less than 20 minutes to throw together. They're easy, beginner-friendly and delicious.
The best vegan cheesecake is a fantastic summer dessert. It has a thick, perfect, luscious texture and is entirely vegan. (Though you can't tell by tasting it!) In addition, the best vegan cheesecake is easy to make.
Sweet and spicy, our pineapple jalapeno granita is going to be your new favorite summer drink. It has the perfect mild spicy flavor paired with sweet pineapple. It's simple to make and tastes terrific.
Almond milk ice cream is a great dairy-free alternative summer treat. For an added taste drizzle the nice cream with hot fudge sauce or crisp fresh fruit. Almond milk ice cream is ultra-luscious, thick and satisfying.
Basil-infused lychee lime ice pops are a chilly, refreshing treat for the hot summer season. Lychee, basil and lime combine and create a delicious, kid-approved snack.
Our easy blueberry mousse is a sophisticated looking dessert. The recipe is versatile and can be switched up with different fruits. Our easy blueberry mousse is light and airy with a velvety-cloudlike texture.
Our vegan apple oatmeal cookies are tasty enough for dessert but healthy enough for breakfast! They're chewy, moist and a fantastic blend of sweet and spice. Vegan apple oatmeal cookies are perfect for meal prep and are freezer-friendly.
Vegan chocolate tart is a great summer dessert. It features a creamy chocolate avocado mousse hugged by the perfect crust. This vegan chocolate tart is entirely vegan and gluten-free. It's simple to make and guaranteed to taste fantastic.
This avocado chocolate mousse is made with dark chocolate and fresh creamy avocado. It is gluten-free and vegan. This avocado chocolate mousse takes only 10 minutes to prepare and two hours to set in the refrigerator. It is a simple, healthy, delicious summer treat.
Vegan blueberry kale pops is a refreshing icy cold treat. It's bursting with blueberry flavor, which sneakily hides the taste of all the nutritious kale. Vegan blueberry kale pops requires only a few ingredients and taste fantastic.
Our chocolate-cherry vegan protein shake is a protein-packed smoothie ringing in at 14 grams per serving. Though it's ram-packed with nutrition, it tastes like a lush chocolate shake. This chocolate-cherry vegan protein shake is ready in no time at all and makes a bright breakfast or tasty snack.
Roasted banana ice cream is a rich, creamy, flavor packed recipe. It's made with creamy coconut milk, roasted bananas, vanilla and a few other simple ingredients. Roasted banana ice cream is a beginner-friendly recipe and packed with cozy sweet flavors.
There isn't a more perfect summer donut than our glazed lemon donuts. They are easy to make and require only 5 simple ingredients. In addition, they're topped with fresh lemon zest. These donuts are bursting with citrusy-goodness!
This vegan cherry pie is wrapped in a homemade crust. It has a sweet, fresh cherry filling and is entirely plant-based. Vegan cherry pie is a great pie for summer.
Packed with berries, this polenta cake is a great summer dessert. It's fresh with a great texture. It's made with healthy ingredients, making it a great alternative to traditional desserts. It has the perfect amount of sweetness and is sure to be a favorite this summer.
Citrusy-sweet, and delicious, our strawberry mimosa cupcakes are perfect for summer. They're packed with fresh strawberries and are destined to be a hit! These little cupcakes have a hint of champagne, making them a great celebratory snack.
Reader Interactions