Fire up the grill! These tacos are packed with charred tofu, fajita veggies, and a zesty vegan ranch. They're a fun, simple meal for a summer night.
This post is in partnership with JewelOsco®.
In the summer, I like my meals to be as simple as possible. I don't want to waste time going from store to store in search of a special ingredient. I don't want to spend hours in the kitchen fretting over a fussy recipe. It's just too beautiful not to be outside. The weather is warm and sunny, and I want to soak up every minute of it.
To be clear – when I say simple, I don't mean boring. While I love recipes with easy prep, I still want them to be packed with punchy flavor. That's why I'm obsessed with these vegan fajita ranch tacos. They're zesty, bold, and fresh, but they're a breeze to put together. All of the ingredients are available at my local JewelOsco®, so I can make them after one quick trip to the store. And because all the cooking happens on the grill, they help me sneak in a few extra minutes outdoors. What more can you ask for on a gorgeous summer evening?
Fajita Tacos Recipe Ingredients
I make these tacos with simple ingredients from my local JewelOsco®:
Bell peppers – The more colors you use, the better these tacos will be! The different shades look stunning together, and they add depth of flavor to the taco filling.
Red onion – For extra color and sweet onion flavor.
O Organics Extra-Firm Tofu – It adds hearty texture and plant-based protein to the taco filling.
O Organics Fajita Seasoning Mix – It fills the veggies and tofu with earthy, spicy flavor.
Lime juice – It adds delicious brightness to the grilled fajita veggies.
Green chile vegan ranch sauce – This homemade sauce is easy to whip up in the blender! It's a creamy, zesty combination of slivered almonds, O Organics Green Chiles, more lime juice, and O Organics onion powder, garlic powder, and dried dill.
O Organics White Corn Tortillas – For the best flavor, warm them on the grill or over a gas flame before assembling the tacos and serving.
And fresh fixings – Avocado slices, cilantro, and jalapeños are my go-tos.
Find the complete recipe with measurements below.
How to Make Vegan Fajita Tacos
Once you assemble your ingredients, these tacos are easy to put together!
First, prep the tofu. My #1 tip for grilling tofu is to press it ahead of time. This hands-off step removes excess water from the tofu, which prevents it from sticking (and then tearing or crumbling) on the grill. You also need to make sure you use extra-firm, not soft or silken, tofu. O Organics Extra-Firm Tofu works perfectly for this recipe.
Press the tofu by wrapping each block in a kitchen towel or paper towels. Place a heavy object on top of it. I like to use a 12-inch cast-iron skillet, though a cutting board and a few cans would work well too. Let the tofu sit for 30 minutes.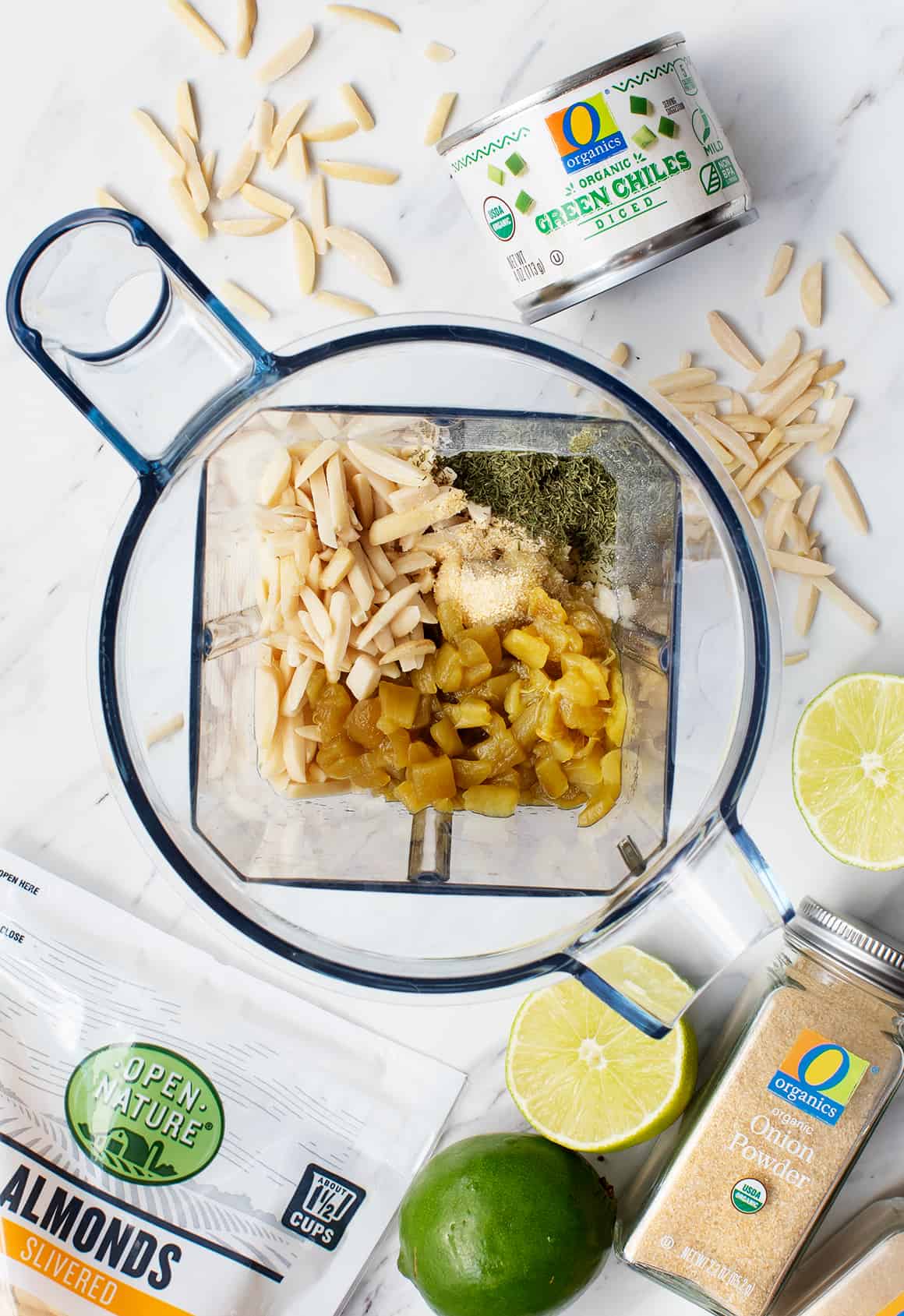 Meanwhile, make the sauce. Place the almonds, green chiles, lime juice, and spices in a high-speed blender with 1/2 cup plus 2 tablespoons water.
Blend until smooth and creamy, and then chill until ready to use.
Tip: If you don't have a high-speed blender, soak the almonds for 6 hours before making the recipe. Drain them before blending them into the sauce.
Then, prep the veggies and season the tofu. Toss the peppers and onions with avocado oil and the fajita seasoning mix. Slice each block of pressed tofu into four slabs, then drizzle the slabs with avocado oil, sprinkle them with more fajita seasoning, and use your hands to coat.
Next, grill! When the tofu is well charred on both sides, remove it from the grill and slice it into strips. When the veggies are charred and tender, squeeze them with fresh lime juice.
Finally, assemble and serve. Assemble tacos with the fajita veggies, tofu, avocado slices, cilantro, jalapeños, and dollops of the sauce. Serve with lime wedges and more sauce on the side!
If you love this recipe, head to JewelOsco®'s Flavor Lab micro site for more summer meal ideas and inspiration. You'll find seasonal, easy-to-shop recipes like this one as well as other fun features like cooking tips and virtual cooking classes to help you make the most of the season. Happy cooking!
Vegan Fajita Ranch Tacos
Serves 4
These vegan fajita tacos are such a fun summer dinner! The creamy green chile ranch sauce packs them with bright, zesty flavor.
Green Chile Vegan Ranch Sauce:
Press the tofu. Wrap each block of tofu in a kitchen towel or paper towels. Place a heavy cast iron skillet on top and let it sit for 30 minutes. This helps squeeze excess water out of the tofu, which keeps it from sticking to the grill.

Make the sauce. Place the almonds, water, green chiles, lime juice, dried dill, garlic powder, onion powder, and salt in a high-speed blender and blend until creamy. Chill until ready to use.

Preheat a grill to medium-high heat.

Cut each tofu block into 4 slabs and place on a tray or plate. Drizzle the tofu with half the avocado oil and sprinkle with half the fajita seasoning. Use your hands to coat both sides.

Place the peppers and onions in a large bowl and toss with the remaining avocado oil and fajita seasoning.

Spray the grill grates well. Grill the tofu for 2 to 3 minutes per side, or until char marks form. Remove from the grill and cut into strips.

Grill the peppers and onions for 7 to 10 minutes, tossing occasionally, or until tender and charred. Squeeze lime juice over the peppers and season to taste.

Assemble tacos in the tortillas with the tofu, peppers, onions, avocado slices, dollops of the sauce, jalapeños, and cilantro. Serve with lime wedges and the remaining sauce.
This post is in partnership with JewelOsco®.